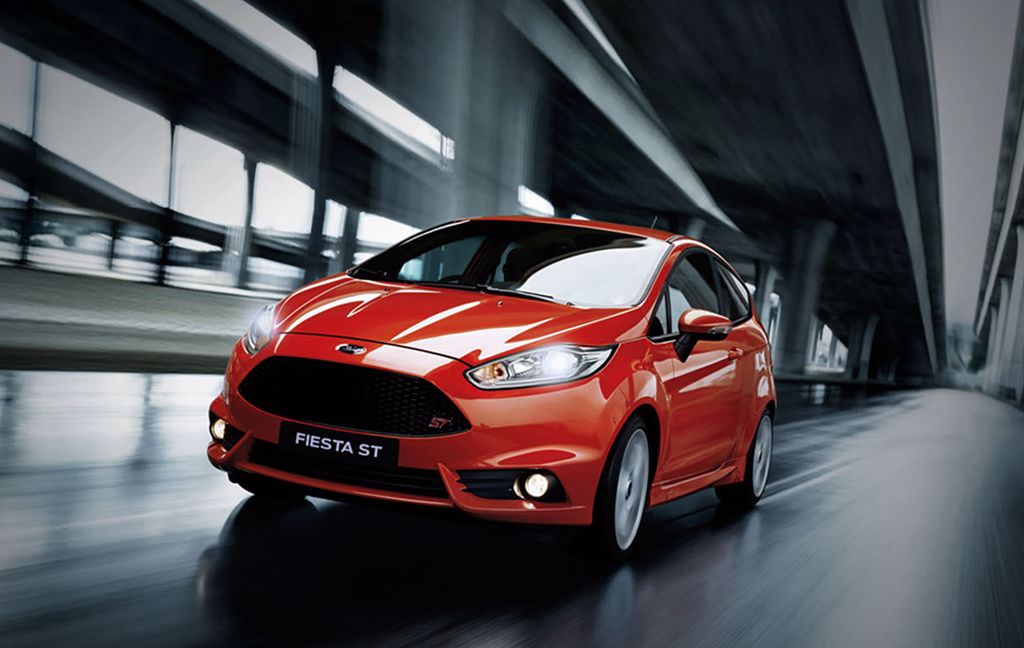 Ford Fiesta Exterior Accessories



Weather Shield Bubble

(Trend and Sport only)




Help deflect wind and rain and reduce window fogging
UV resistant to help prevent cracking, fading or distortion
Made from tough, durable acrylic
Set of two front weathershields.




Weather Shield Slimline

(Trend and Sport only)




Slimline weathershields provide a stylish look
Help deflect wind and rain and reduce window fogging
UV resistant to help prevent cracking, fading or distortion
Made from tough, durable acrylic
Set of four weathershields.




Mub Spats

(Trend only)




Set of two.
Help prevent lower panel and underbody damage
Designed to prcicisely fit the vehicle's body dimensions
Made from Durable polypropylene
Not available for Fiesta Sport Front and rear sets, sold separately.




Spoiler - Large Rear




Enhances the contours of the vehicle Large, aggressive design
Gives the vehicle a sportier look
Supplied primed (paint to suit)
Includes tape and primer kits.




Tow Pack

(Trend only)




Rigorously tested to meet stringent Ford engineering standards
Maximum towing capacity 900Kg Petrol & 750Kg Diesel
Towpack consists of towbar, wiring and towball, sold separately
Not available with Fiesta Sport.




Alloy Wheel Lock Nut Set




Designed to protect your alloy wheels from theft
Unique locking nuts can only be removed with your personal key
Nut length complements the design of your wheels
Unique nuts act as a deterrent to would-be thieves
Designed and tested to meet stringent Ford Standards
Ford Fiesta Interior Accessories



Auxiliary Audio Plug In Cable

Allows you to connect a portable audio device (eg: *iPod®) to your vehicles audio system
Retractable cable can be pulled from both sides
3.5mm male to male adaptor
Features Ford logo.




Boot Scuff Guard

Helps protect rear bumper and boot lip from scratches and scuffs when loading and unloading
Securely attaches to boot floor and folds out to help protect the vehicle's bumper area
Easily installed in seconds and folds away neatly when not in use.




Carpet Mats

Set of three mats
Stylish, soft feel black mats designed for a customised fit
Easy to remove and clean.




DVD & CD Wallet

Stores up to 20 CDs
Helps to protect disc from scratches and damage
Designed to fit in the front console compartment or glove box
Includes a convenient carry strap.




Fridge Day Tripper

Can be used to keep food and drink cool
Storage capacity of 15L
Includes removable shelves for easy storage or food or beverages
Ideal for picnic lunches or day trips
Easily restrained by the seat belt in the vehicle and restraint strap supplied
Dimensions – 46cm x 28cm x 32cm (LxWxH)
Connects to the 12V power outlet in the vehicle
When vehicle is in motion fridge must be fitted with the restraint strap supplied.




Fridge Power Adaptor

Enables you to convert 240V to 12V, making it ideal for use at a caravan or campsite, or at the office
Dimensions – 13cm x 9cm x 6cm (LxWxH).




Luggage Compartment Mat

Anti Slip Rubber

Large, rubber mat which helps prevent items from sliding around in the boot
Easy to install, remove and clean
Helps protect boot area from wear and moisture
Cannot be fitted in conjunction with Foldable Luggage Compartment Mat or Boot Scuff Guard.




Scuff Plates

(Trend & Sport only)

Stylish protection plates that enhance the appearance of the vehicle
Feature the 'Fiesta' logo
Help protect the doorstep from scratches and scuffs
Set of two front scuff plates.




Smoker's Pack

(Trend & Sport only)

Lighter fits into the centre console
Ash cup fits into the cup holder
Made from durable thermoplastic.




Umbrella Storage

(Trend & Sport only)

Handy storage
Velcro attachment
Umbrella not included.
Ford Fiesta Safety Accessories



Weather Shield Bubble

(Trend and Sport only)

Help deflect wind and rain and reduce window fogging.
UV resistant to help prevent cracking, fading or distortion.
Made from tough, durable acrylic.
Set of two front weathershields.